Partner
Benjamin Meadows
BCom Summa Cum Laude; LLB Summa Cum Laude (UKZN PMB)
Year of Admission: 2019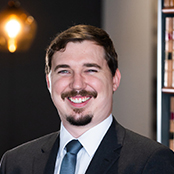 Direct line: 031 835 3109
Cell number: 060 977 3866
Send an email
Benjamin specialises in commercial transactions, dispute resolution, and litigation. He has broad experience, having acted for clients within the banking, private equity, sugar, agriculture, rental, mining, and petroleum industries, amongst others.
Benjamin has experience in all manner of commercial transactions, including sales of shares, sales of businesses, share subscriptions, restructurings, and large loans. In addition to drawing agreements and security documents, Benjamin has advised clients on appropriate commercial structures, and has assisted clients with resolutions and other authorisations, obtaining Competition Commission approval, and the closing out of large transactions. He also advises clients on various aspects of regulatory compliance.
Benjamin also has experience in dispute resolution, High Court litigation, and the negotiation of settlement agreements. He has particular expertise in instituting and defending urgent applications of all kinds, and in addressing land invasions, rental disputes and other property-related matters. Benjamin has acted in matters referred to the Supreme Court of Appeal on appeal. He also acts in general collection matters.
View Media Articles